Ohh noooo!
I thought in the morning as I was showering... NO MORE soap! There was a teeny piece left so I used it; enough for my whole body.
I decided to give The Soap Kitchen a try. Thankfully, I have such a wonderful~nice~boyfriend who is willing to take me to The Soap Kitchen in Pasadena to buy the soap. When we got to Pasadena, the traffic was horrible; no parking space anywhere in sight. It was frustrating. I was even willing to pay that $12 parking fee, but he was like no. Then after a while, he spotted this $6 public parking lot, he's like "you want to park here?" "YES!" I didn't care anymore as long as we park somewhere; we've been going in circles.
Finally,
we got out of the car with the ice cold air greeting us. brrr~ It was about a few blocks of walking before we reached The Soap Kitchen. As I stepped into the store, the aromatic smell of soap greeted my olfactory receptors. The lady was very friendly and came right over to us after detecting our presence. She was all smiles, a good sign in a good business woman. I asked for the kind of soap I needed and she showed me a few soaps. One of them immediately caught my attention; the
Tea Tree Wake Up soap
smelled so good, I knew that it was the one I want. I wanted one that exfoliates, and she said the poppyseeds in it would do the job. I smelled every single bar in the entire store. That's right, every single bar. Of course, I came all the way here, I'm not going to miss a good smelling soap. He was also walking around looking/smelling soaps. After smelling a few soaps, his sense of smell was already gone. haha. Mine was working fine; I'm really sensitive, so it really comes in handy at times like these.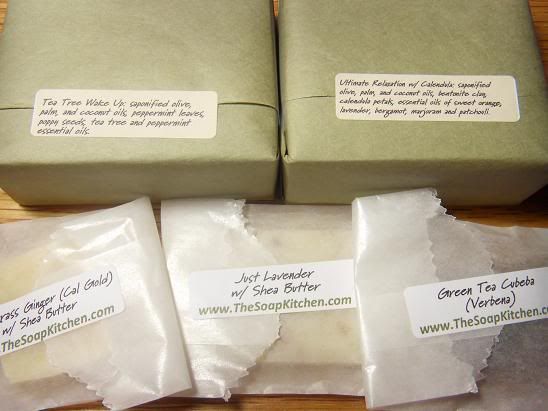 After whiffs here and there, I finally picked the soaps I want. For each flavor, they have a small one and a big one available for you. I picked the small one since I'm just trying. The small one is about 4-5 oz. It's 0.75/ oz. Pricey...but it's all natural cold processed soaps with essential oils (not fragrance oils). I walked to the counter with a
Tea Tree & Peppermint Wake Up Soap
and an
Ultimate Relaxation with Calendula
in hand. She weighed them on a scale and charged me accordingly. The total came out to be $16.XX. She picked two samples for me, a
Lemongrass Ginger with Shea Butter
and
Green Tea Cubeba(Verbena)
and I requested for
Lavender
(exchange with
lemongrass
), but she said it's okay and she'll just add it to the bag. She couldn't find it in the container, so she went and cut it for me. This piece was evidently larger than the other two pieces. Great service. So I ended up with those two samples PLUS the
Just Lavender with Shea Butter
. I left the store happily with the new soaps in my hand. Yayy~ I get to indulge myself & experiment with new kinds of soaps.
There are places where you can get natural soaps for cheaper prices, but they are really far, so you would have to order it online & shipping cost a lot.
Soap Ingredients
Ultimate Relaxation w/ Calendula
: saponified olive, palm, & coconut oils, bentonite clay, calendula petals, essential oils of sweet orange, lavender, bergamot, marjoram & patchouli
Tea Tree Wake Up
: saponified olive, palm, & coconut oils, peppermint leaves, poppy seeds, tea tree and peppermint essential oils
The
Tea Tree Wake Up soap
(wrapped)'s smell is so strong that I can smell it without sticking my nose in. I had it in my room with my door closed. After dinner, when I came into my room, I could smell the Tea Tree soap. It just filled half my room. Smells wonderful! I can just use the samples first, and leave my room smelling good with this.
Updated with pictures~
My samples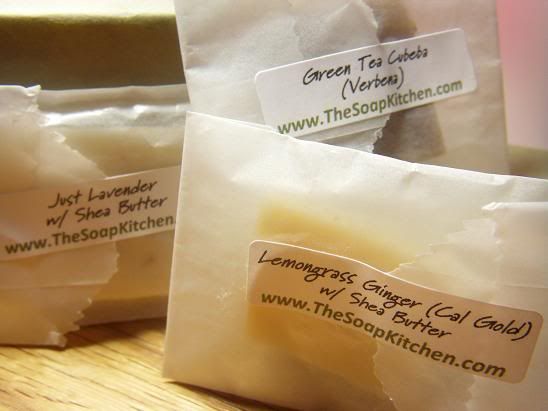 Samples laid out along with the 2 soaps I got :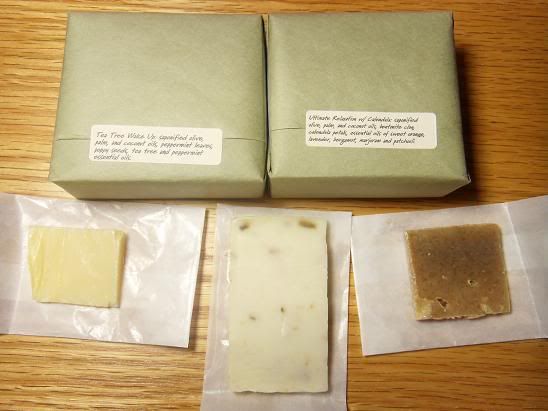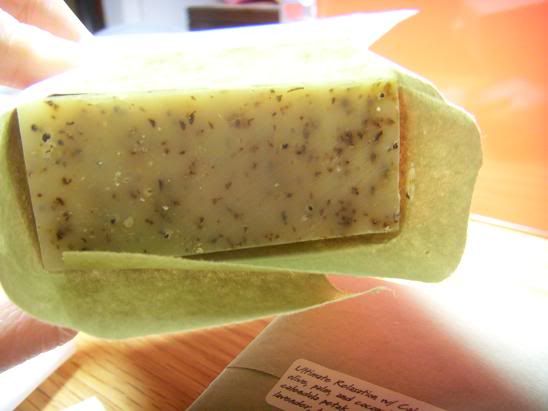 My
Ultimate Relaxation with Calendula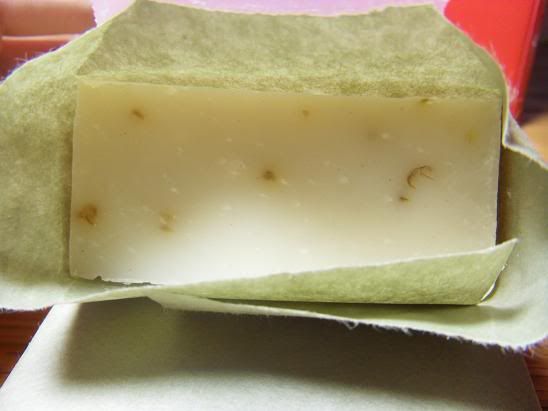 Lemongrass Ginger w/ Shea Butter (took 3 showers for this to completely disappear)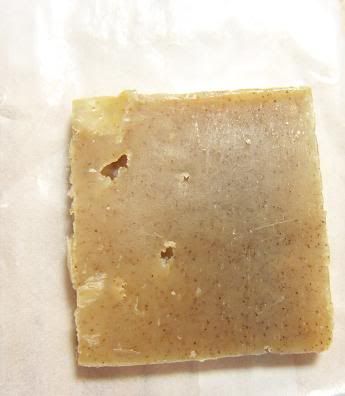 Green tea Cubeba(Verbena) - 3 showers for this to be gone too
Just Lavender w/ Shea Butter ( I have yet to try this)