Okay I must admit my title is getting less and less original and creative, but that just shows how lazy I am. Moving on.... today I'm wearing a more casual everyday look with jeans and everything. So dead tired right now, but I'll continue posting.... and without further ado...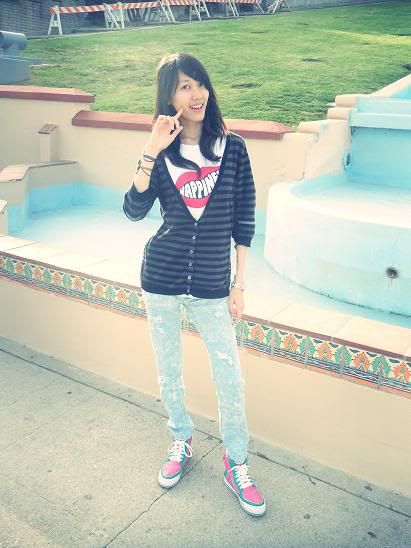 I'm wearing an
I.S.O
cardigan here.. and a T-shirt from my mommy that shouts happiness.
I dug out this pair of jeans from my mom's closet. It's not quite fitted on me because my butt is smaller than hers, so there is some room, but who cares. The hi-top sneakers are about 3 inches with heels inside that's not visible. I feel like every post have something I.S.O...I must be a fanatic.
More pictures :D and like always, these pictures are taken by my personal photographer (my boyfriend)~ Yay! He's improving thanks to my tips. Because my digital camera make the pictures so dull, I give it a magical touch ;] sort of like pixie dust?
I will get a DSLR!! One day! You'll be mine Nikon D7000!!Wait for me!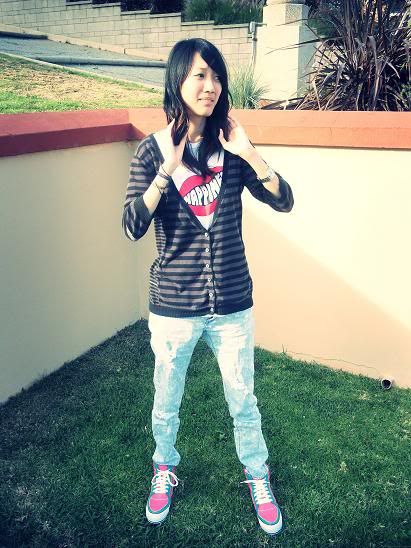 Some yellow flying bug was having fun scaring me, flaunting its yellowness in my face. SHOO!
OooOOo...FIERCE. The whole point was to show off the
side
of my hi-top sneakers :)
On a side note, I had tied my hair up in a bun the previous night...hence, the
wavy
hair.
Okay, time for bed. I wish I could just sleep right now but I still have to brush my teeth wash my face blah blah blah blah..........